GROUP training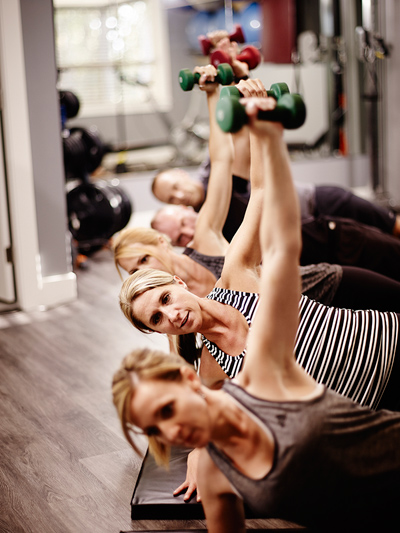 Our private studio space is set up for each small group session to be more personalized and specific allowing each participant to receive more individualized attention. In talking with clients we were finding that people were looking for a place that they could feel a part of, recognized when they walked in a session and become part of a small community. A place that welcomes, challenges and connects you with your goals while paying attention to detail to avoid injury. We push you to make the most of your workouts and help you know how to know your limit and play within it.
Group sessions are a max of 8 people per session giving you a much more individual & personalized train than being in a large group. We use a variety of 'toys' (TRX, functional trainer, free weights & bars, sandbells, battling ropes, kettlebells, agility ladders, plyo boxes just to name a few).
10 session packs can be purchased for $120 and used on any variety of sessions or single drop in for $15. Come check out a session for a free first visit and watch our calendar for new things to come.
Fit Camp (Co-ed) with Judy
Looking for a full body workout? This is an exciting and challenging workout that targets strength, agility, coordination and cardio. Get into tip-top shape by participating in a new circuit or physical challenge each week. You will get anything from full body-weight workouts to personal challenges using gym equipment, timed challenge or a run around the block. We will always try to keep you guessing. If you do not like variety, this is not the session for you. For intermediate to advanced level.
Hatha Yoga with nicole or amy
Grounded in the basic roots of yoga, this positive, energizing class will give you the benefit of a gentle slow flowing yoga practice touched with light twists, gentle, yet deep controlled stretching, topped off with restorative poses. You will be guided through each breath, ending in deep relaxation for a wonderful experience in a soft-lit and quiet environment. Please bring your own mat.
HIIT/stretch yoga
HIIT stands for high intensity interval training which we take on for 30+ min working with a variety of toys or body weight focusing on cardio, endurance, and strength. Followed by yoga for stretch and restoration to avoid soreness and stiffness. Not for the faint of heart or beginners but for those that want to kick it up a notch. Please bring your own mat for yoga.