TESTIMONIALS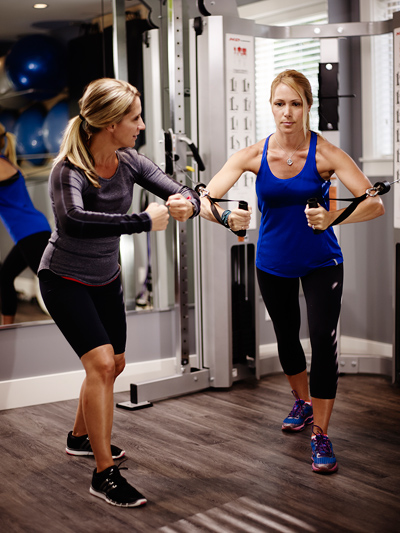 "Taking the step to do something sets you on your path, but I firmly believe that picking the right trainer who is supportive and encouraging is the key to being successful and continuing to strive. I contacted Judy in July 2017 when I realized I needed to do 'something'. I was feeling sluggish and was tired of making excuses. Judy suggested some personal training sessions first to get me into the groove. This was the best suggestion ever as it allowed us to discuss personal goals and specifics that would help in my journey. It also allowed Judy to ensure the exercises were being done accurately with proper form. After several personal sessions, I joined the small group sessions and have continued ever since. Four months later, I feel better than ever and well on my way to reaching my initial goal. Every step of the way, Judy has been knowledgeable with not only exercise but also nutrition. She has been encouraging and supportive and been a great motivator. Her positivity and her "I'm in your corner" attitude is invaluable to anyone looking for the right trainer. You will not be disappointed.
Su Emanuel
"Judy has been my trainer for a few years now. She is very knowledgable and motivating. She is able to focus her expertise on each individual. For me this is extremely important as I have had injuries in the past which can easily come back to haunt me. She knows when I need to back off and when I need to be pushed. I would not be able to strengthen my weak areas without her presenting the correct exercises and then motivating me to do them. If you want a trainer who is fun, motivating and will get you fit, she is your girl!"
Nelly Kaye
"Judy is a one of a kind personal trainer. She takes the term 'personal' and runs with it, refining each workout for your specific needs. She makes wanting to go to the gym fun and results with her workouts and meal plans are inevitable! Judy is the best personal trainer I've had and I'd recommend her over and over again!"
Jas Gill
"I would definitely recommend Judy as a personal trainer. After having my first child and gaining 80lbs during my pregnancy I found it very hard to lose the weight. I was back at the gym exercising 4 to 5 times a week but couldn't seem to lose a pound.
When I met with Judy I could see that I found the right fit for a trainer, she recommended that I eat more and I'd lose the weight. A strange concept at first, however within a month and maybe a few tweaks to my routine I started to see a huge difference in my shape. Within four months I was able to meet my fitness goals and feel great about myself. If you're looking for a quick fad way to lose weight Judy is not your girl, be prepared to work hard and get your butt kicked, but trust me it's worth it!"
Kelsey Kirk
"Being able to lead adults in a group isn't always easy. Judy has that ability and can plan out for an individual's need or group needs. She also has an all-around knowledge base that covers diet, health, lifestyle and workout style. She is a pleasure to work with"
Jarris Neufeld
"Judy has been my favourite trainer for the last couple of years now. She always keeps her workouts fresh and encourages us all to work to our highest potential but never pushes us overboard. I look forward to her weekly HIIT classes because they show me where I could possibly need some improvement and I can learn from that to improve my own daily routine. I also enjoy the variety in the way she teaches spinning class. I wouldn't be in as good of shape today if it wasn't for Judy. I would highly recommend Judy as a personal trainer for anyone."
Dave Soltesz
"I have had the pleasure of working with Judy for several years. She has an amazing ability to push me way beyond what I thought possibly on my own. She manages to do this in a way that is encouraging, and never leaves me feeling frustrated or self-conscious. She is very patient and is able to adapt workouts to any fitness level. There is no doubt that you will get an amazing workout that will leave you feeling your muscles the next day."
Laura Beatty
"Having found myself very suddenly and prematurely facing all the challenges of menopause, I searched around for some resources and support to help me begin the various transitions this stage of life requires. Among the most difficult of those for me were issues relating to my slowing metabolism. I'm so glad I contacted Judy. Not only was she remarkable in her capacity to listen and understand my unique and complex situation, she thoughtfully created a workout plan that I have been able to stick with. One of the aspect of Judy's approach I appreciate so much is that she wants me to reach my goals and maintain them - meaning she wasn't looking for a quick fix, she began teaching me how to make fitness a part of my overall lifestyle. Can I also say that I loved her gentle approach to this very sensitive area of my life and self-esteem. Don't get me wrong, Judy pushed me. It's just that she understood the touchy nature of this issue and I felt very safe to be open and honest with her. I recommend Judy to anyone and everyone!"
Adele Phillips
"Judy is a great motivator and has challenged me to strive to push my personal boundaries to new heights. Judy tailors workouts to fit my individual needs, although the workouts are tough, Judy makes them fun as well. Judy is personable and has a lot of integrity. Having worked with other personal trainers, I can say that Judy is one of the best."
Lyn McCullagh
"I started doing boot camp with Judy when I first came to Abbotsford from Vancouver. I was apprehensive when I first started as I had never joined a boot camp style class in the past. Judy made me feel welcomed and comfortable yet still pushing me past my limits. The more I went to her classes the more confident I became in my abilities. Judy sometimes subs a class I go to at the local gym and I love the variety of exercises she chooses for us ladies. She's always positive and eager to work us hard. Thanks to her my love for fitness and exercising has increased and I want to continue to strive to be better."
Melissa Covington
"I have worked out with Judy over the past two years. She makes each workout challenging, creative and most importantly fun! I have lower back issues which I have overcome with her support and guidance. Judy is quick to correct form and places high value on this. The changes I have seen in myself when working out with her have been amazing! I feel stronger and know how to avoid re-injuring my back. Not only is Judy a great trainer and passionate about what she does, her easy going, friendly personality creates a relaxed, comfortable atmosphere. I highly recommend her if you want to see changes and be a better version of yourself! She's your girl."
Krista Thiel
"I have been taking judy's cycle classes regularly- I love how motivating she is, and how I leave each class feeling like she just gave me the workout of my life! She pushes me to my max but always makes it enjoyable! Not only is Judy an amazing trainer, she is also truly a lovely person inside and out. I feel lucky to have met Judy and have her motivate and inspire me, not only during my workouts, but also in life. I look forward to many more years of spin classes and training sessions with her!"
Becky Venier
"My reasons for starting to train with Judy were pretty typical at first. I wanted to lose a bit of weight, tone up after having 2 children, improve my general health, etc. In time, however, it became so much more than that. In fact, the way I look at my life has changed. I began to not only look forward to my classes but to also crave the challenges each session offered. And this meant that I also started to thrive at other kinds of challenges too (work or life related etc). I became more confident and far more adventurous. But, most importantly, I now feel powerful and as a woman, this is the most rewarding goal. Thanks Judy!!!
Tanya Johnson
"I recommend Judy as a personal trainer, without hesitation. I started going to her boot camps 5 years ago. She exudes energy from the minute you meet her, and before you know it you are lifting more, building more muscle and becoming stronger. She works with you on many levels; not just physically, but mentally and emotionally. Because of Judy, I don't just do lady push-ups…I can do 30 full-on push-ups, and bring on the burpees and 3 minute planks! In my 50's I am stronger than I've ever been, and have less back issues and more stamina for work and recreation. Judy 'walks the walk and talks the talk'. I love her to bits."
Jen LeMond
"I first met Judy in the spring of 2013 when I signed up to take spinning classes. I had a personal goal to lose 20 pounds by August and had heard that spinning would be just what I needed to whip my butt into shape. I honestly have never sweat so much in any class in my life and oh how I loved to complain to Judy, yet I kept coming back month after month. And it was not because I loved spinning believe me, it was for Judy. Her teaching style and positive motivation was what I kept coming back for. She helped me reach my goal and more!
Later that same year, I started taking HIT (High Intensity Training) classes with her as well and that's really where I got to know her. She pushed me to do things I never thought I had in me. But she was never mean or scary like some other instructors can be and even though I love complaining and cursing her out (especially when she makes me skip rope – which I HATE), I secretly loved the sore muscles that I would always have the next day. Her friendly, approachable demeanor makes her not only an amazing instructor but also a friend. We've shared a lot of laughs, sweat and (near) tears over the last couple years! I've gotten to know her on a personal level and she truly is one of my favorite people…"
Rae-Ann Bracett